When looking for tall ladies jeans, there's different things to consider. Making sure that the jeans fit in all the right places and that have the right length is important.
Every wardrobe needs a few pairs of go-to jeans. A pair of jeans is one of the most versatile pieces of clothing you'll ever own. And sturdy enough to make you feel like you are covered and dressed appropriately when going out. I usually throw on a pair of jeans or joggers when I'm working from home. That way, I'm dressed enough to answer the door or pop out for a quick errand, or two.  Even if you don't work from home, more and more businesses are letting their employees dress more casually. And there's almost always a Friday jean day.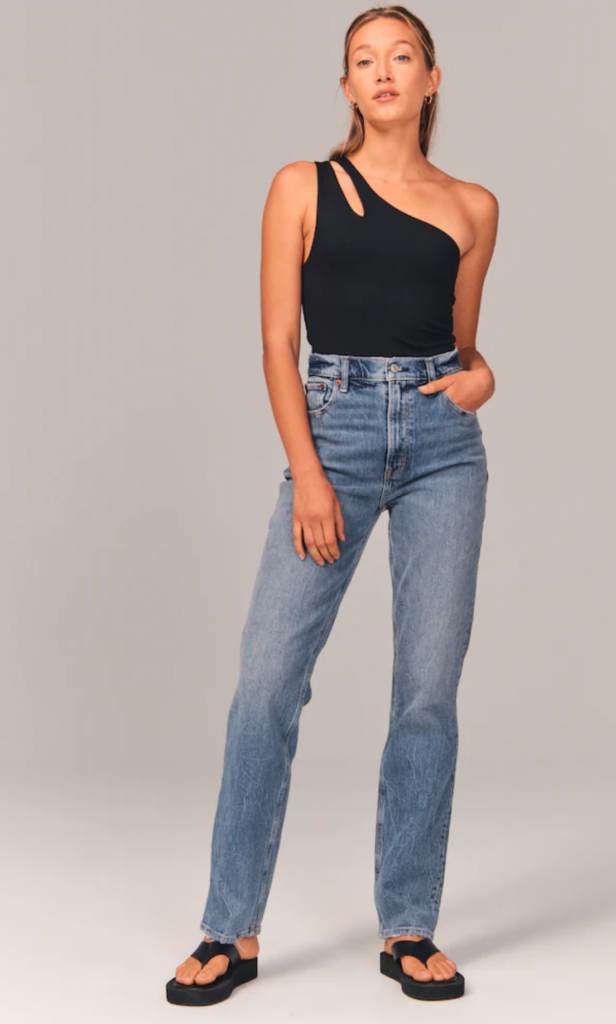 SHOP TALL JEANS
But, when you're a tall female with long legs, there are certain challenges that come with shopping for jeans, especially online. 
You have to have the right type of fabric that fits your body shape and isn't TOO SHORT…which is by far the BIGGEST problem that I have. If the jeans are too short it feels so uncomfortable when you move around or sit down. And your stark white socks are showing that you wanted to hide!
You also need your jeans to be longer to tuck into boots during the fall and winter seasons. Even if I find jeans that are long enough….they are too baggy and don't fit anywhere else.
It seems like everything is made only for shorter women. 
But now, there are more and more brands coming out that specialize in fashion for taller women. 
The jeans that I'm mentioning in this post are from brands that do just that. These jeans will work for any age as well. Everything in the list is made particularly for tall frames of different shapes, all under $100!
HOW TO SHOP FOR TALL GIRL JEANS ONLINE UNDER $100
At 5'9" I know what it's like to be taller than the average female. And feeling awkward when surrounded by short girls. I'm not a style expert, but I've had my fair share of fashion problems as a tall female. I've spent a lot of time researching and trying different brands that will fit my body type and my height. And adjusting what I wear with every milestone I come across. 
The jeans that are over $100 aren't always better. But with the right fabric combination and quality, you can find jeans that you'll feel confident in. So, I hope at least one of these pairs of jeans will work for you!
HERE'S A TIP:
To keep my jeans looking new and lasting longer, I always hang mine up to air dry. Especially if I don't want the length to shrink up.
See more fashion posts, HERE.
Best Affordable Tall Ladies Jeans You'll Want Under $100
---
Disclosure: This post contains affiliate links. If you purchase through one of my links, I may receive a commission at no additional cost to you.
---
If you're looking for a flexible stretchy fabric that is super comfortable around your stomach, then you'll love these. They have a sophisticated look and a mid-rise. It goes perfectly with a cute bodysuit and blazer or go casual with some basic sneakers and a t-shirt.
Love your skinnys but don't want a back gap in the waist? This pair might be worth trying.
If you don't want it to be super tight, you can try a size up. 
They have an ultra-soft feel and will follow your natural curves without being too tight.
From a brand that gets its design inspiration from the latest music, technology, and social media trends. 
This is an eco-friendly pair of jeans that are made with organic cotton, grown using less water and no pesticides. Which helps the environment, cotton farmers, and our wildlife. 
Looser-fitting jeans are just what you need for comfort and a full workday.
I've loved Abercrombie since the 90s. And they've really kept up with the trends and today's fashion. 
For gals with larger thighs and hips plus a smaller waist. 
Even though it's made to fit oversized, you may want to size down in these if you want it to be a closer fit.
Another Abercrombie go-to. It has a longer-length inseam and a vintage feel. Perfect for tall girls. You'll be extremely comfortable as you're watching all your fav Friends episodes.
Size down in these though, if you are in-between sizes.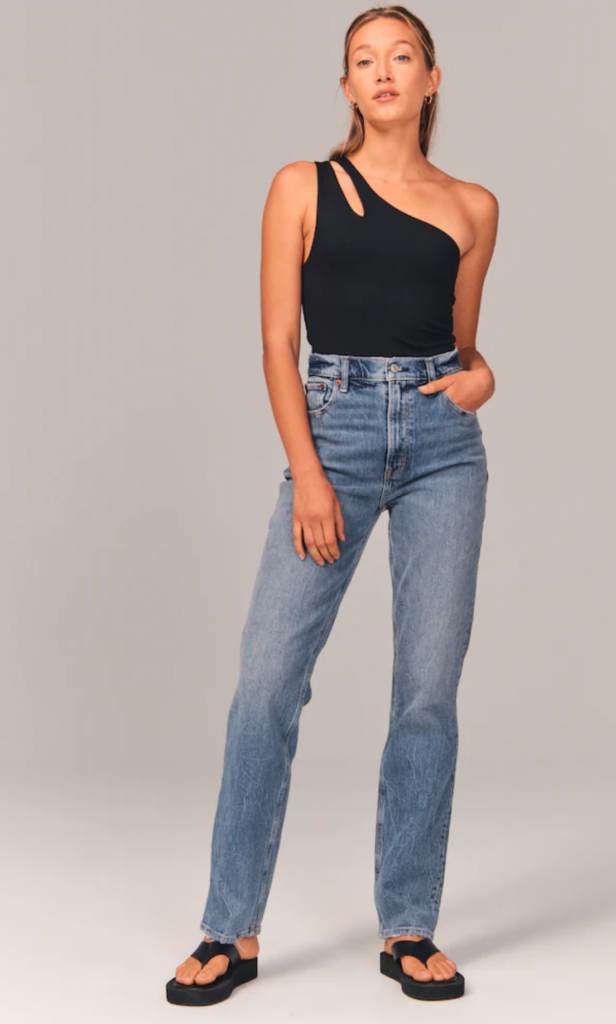 These are jeggings that feel really comfortable, and move like leggings but are a denim material.
It's made with a 35" inseam and is sleek enough to dress up or make it look sporty.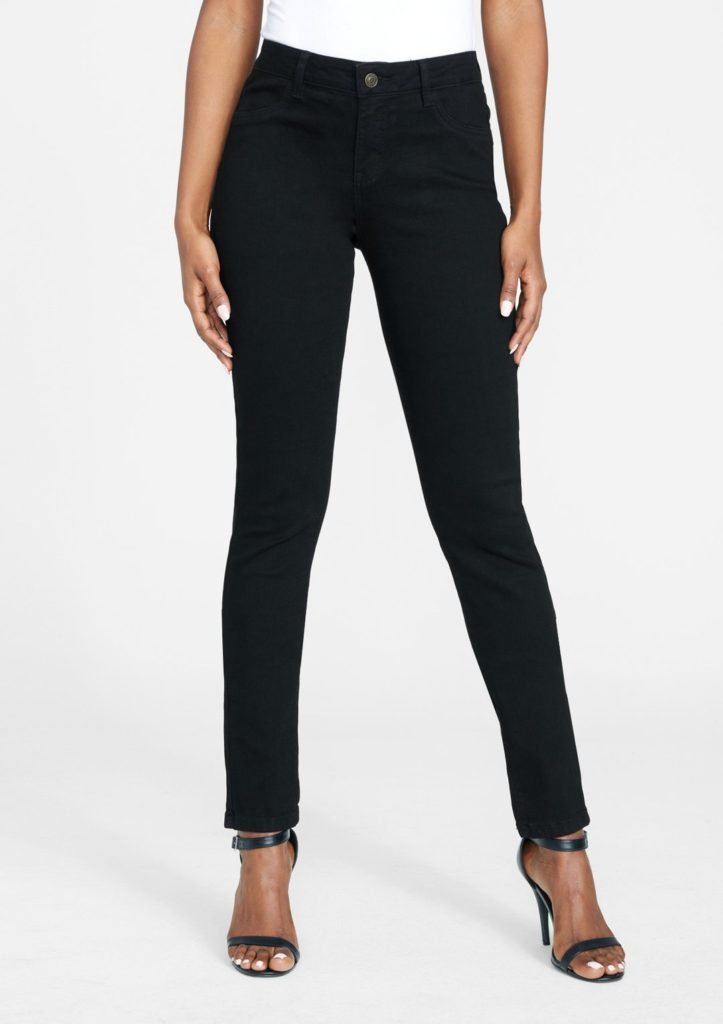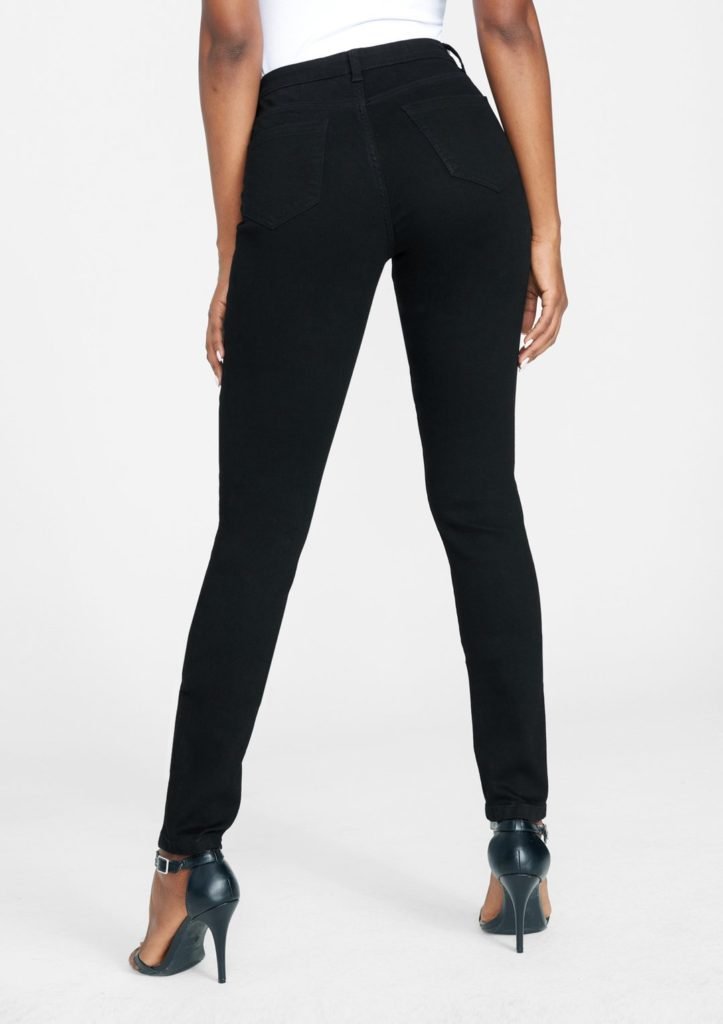 If you like wearing heeled shoes, boots, or high-heels, then you'll want to add these to your closet.
They are low-rise, so if that's not your thing, you'll want to keep that in mind. But they should work for you if your hips aren't as curvy. 
Either way, they will still look great and feel good against your skin, while being durable enough to last through many washes.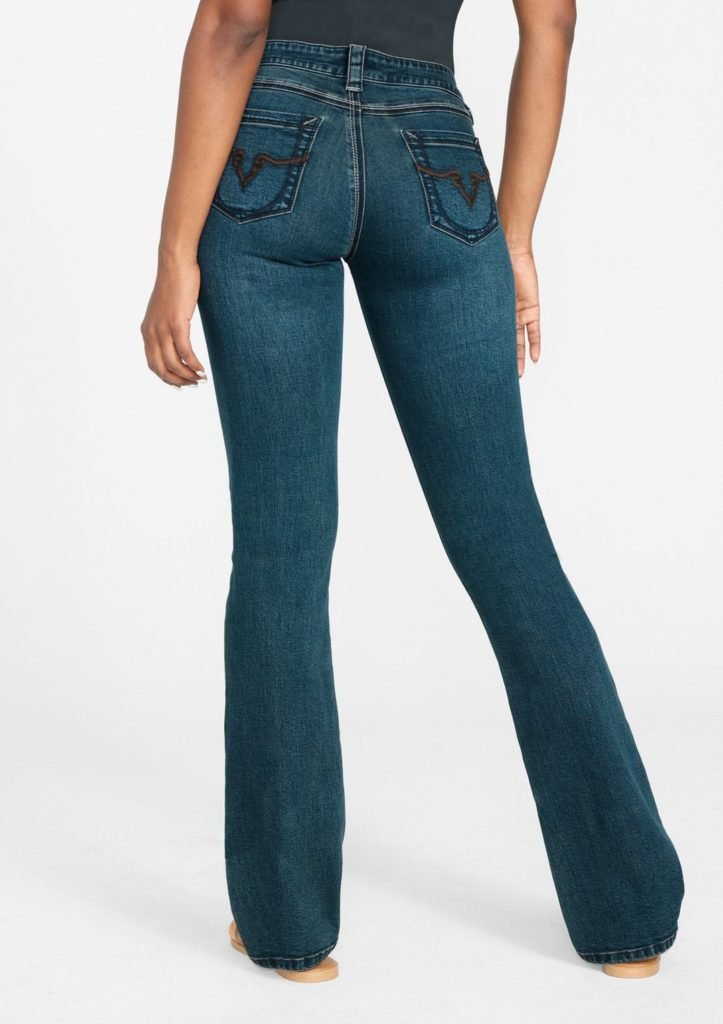 Another eco-friendly pair. These are part of Gap's Washwell Program, which uses at least 20% less water than conventional wash methods. As of 2016, they've saved 289 million liters of water…enough to fill 579 million water bottles. 
It has been lightly distressed all over, with a hidden-button closure.
Add a belt with a cute blouse for a night out!
Made for the perfect fit in the rear. It has a straight leg and super high-rise so you can tuck in your tops or shirts for a sleek look. The raised back hook seam helps to lift and tighten your backside. 
Whether you are curvy or straight, you'll love how these look and feel!
SHOP TALL JEANS
Liked this post? Pin it for later!