Spring is in the air and that means it's time to swap out the winter decor for fresh and lively spring accents. And what better way to welcome the season of new beginnings than with a unique, nature-inspired spring decor? We'll show you over 17 of the best natural dried spring wreaths ideas that add a little secret garden to your front porch or front door.
These wreaths are not only stunning but also easy to make with just a few materials. We'll provide step-by-step instructions and photos, so you can create your own show-stopping spring wreath that will impress your neighbors and make your front porch the envy of the block. So, grab your coffee or tea, and let's dive into the world of nature-inspired spring wreaths!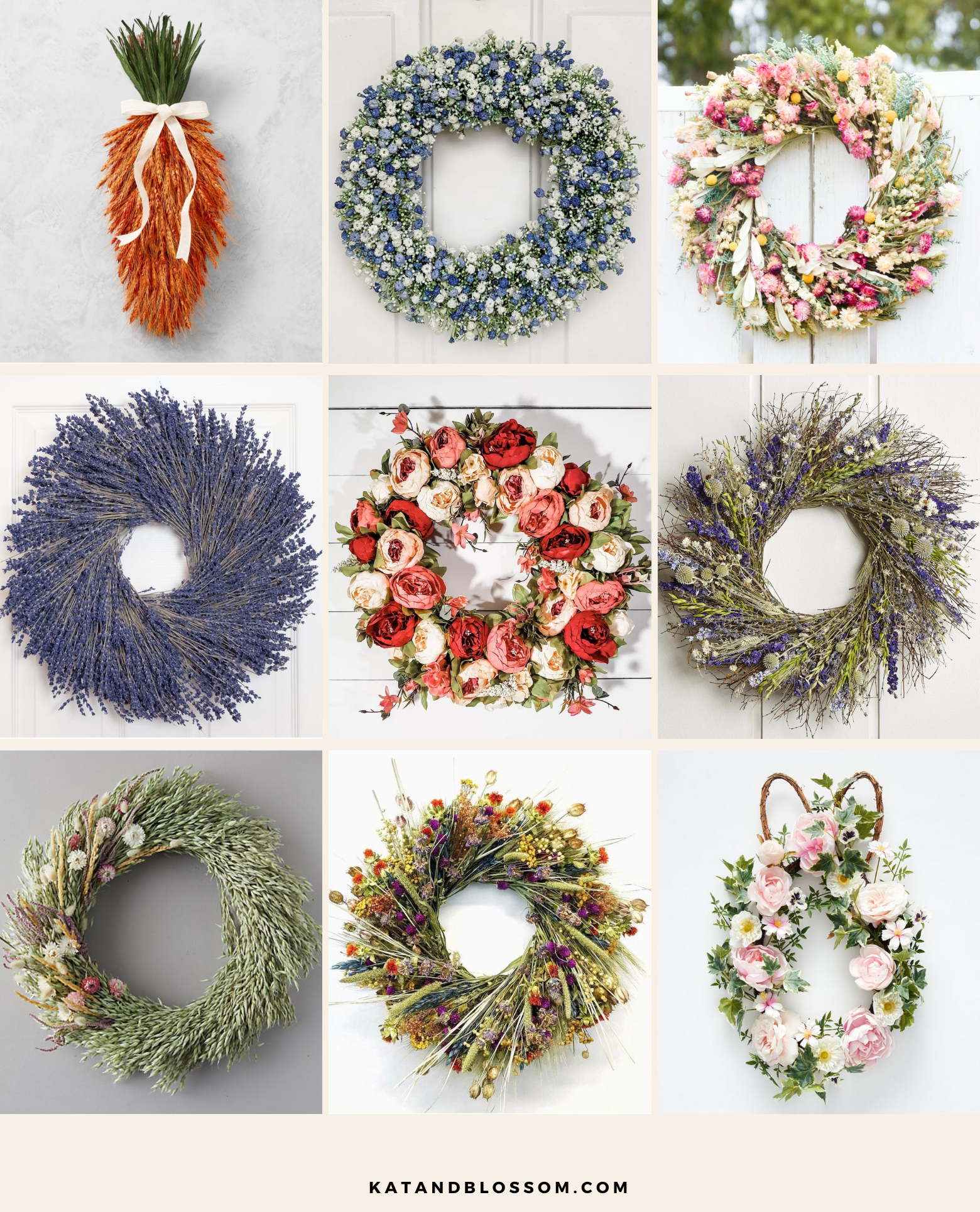 Unique and Stunning: 17+ Best Natural Dried Spring Wreaths
---
Disclosure: This post contains affiliate links. If you purchase through one of my links, I may receive a commission at no additional cost to you.
---
SHOP ALL WREATHS
SHOP ALL DIY KITS
When Should You Put Spring Wreaths Up?
With spring in the air, you might be wondering when it's time to break out your favorite spring wreaths and adorn your front door with a splash of seasonal color. Well, the answer is simple – whenever you're ready! There are no strict rules when it comes to hanging spring wreaths, but generally, people tend to put them up in March or April, as this is when spring officially arrives.
But, if you're someone who can't wait to celebrate the changing of the seasons, there's no harm in hanging your wreath up a little earlier. Besides, who doesn't like to add a little something extra to their home that's cozy and pretty? So, whether you're a stickler for tradition or a free spirit who likes to wing it, there's really no right or wrong time to put up your spring wreaths. Just go with what makes you happy to have in your own place.
Can Outdoor Wreaths Be Used Indoors?
Outdoor wreaths can definitely be used indoors to add a touch of natural beauty and seasonal vibes to any room. In fact, many outdoor wreaths can be versatile enough to work in any space, whether it's your front door or your living room. Just make sure to keep in mind the size and style of the wreath, and how it will complement your interior decor. You might even find that a wreath you once thought was too "rustic" for indoors ends up being the perfect addition to your cozy farmhouse-style kitchen. And, with these wreaths, you'll add real touches of nature to your space so you can have bits of a spring garden inside.
How Long Do Natural Spring Wreaths Last?
Just how long can you expect your new wreath to last? The truth is, it really depends on a variety of factors, such as the type of materials used, the weather conditions, and how well you care for it. Natural materials like dried flowers, herbs, and twigs can last for several weeks, months or even up to a year, as long as they're kept in a cool, dry place and out of direct sunlight and excessive heat.
However, if your wreath is exposed to too much moisture or heat, it may start to deteriorate more quickly. To extend the life of your natural spring wreath, try spritzing it with a little bit of water every few days and avoid hanging it in damp or humid areas. And remember, even if your wreath does start to show signs of wear and tear, that doesn't mean it has lost its charm – sometimes, the beauty of natural materials is in their imperfections and aged look.
How Should I Care For Real Spring Wreaths?
Now you've picked out the perfect natural spring wreath to spruce up your front door or bring some extra life to your living room. And, you might be wondering – how do you take care of it and keep it looking fresh and vibrant for as long as possible?
Firstly, keep your wreath out of direct sunlight and away from sources of heat, like radiators or fireplaces. If your wreath starts to look a little dry, try lightly misting it with water using a spray bottle to give it a quick refresh. You can also gently brush off any dust or debris with a soft-bristled brush or a dry cloth. And, if you want to make your wreath last even longer, you can try treating it with a floral preservative or using a clear spray sealant to help protect it from weather conditions outdoors. With a little bit of care and attention, your nature-made spring wreath can be enjoyed for weeks or months to come!
We hope this post has inspired you to embrace spring and decorate your front porch with some extra beauty and charm with a stunning natural dried wreath. Whether you're looking for something rustic and traditional or more modern and minimalist, there's a wreath on our list to match your style and taste. And, with the right care and attention, your new wreath can be enjoyed throughout the spring season. So, spruce up your entranceway or doors with a wreath straight from nature, and let's get Spring started!