Memorial Day is just around the corner, and you know what that means—awesome deals and the perfect opportunity to snag some incredible products while keeping sustainability and vegan-friendly in mind. This year, I've rounded up standouts in organic vegan eco: the best Memorial Day sales to make your shopping experience guilt-free and easy.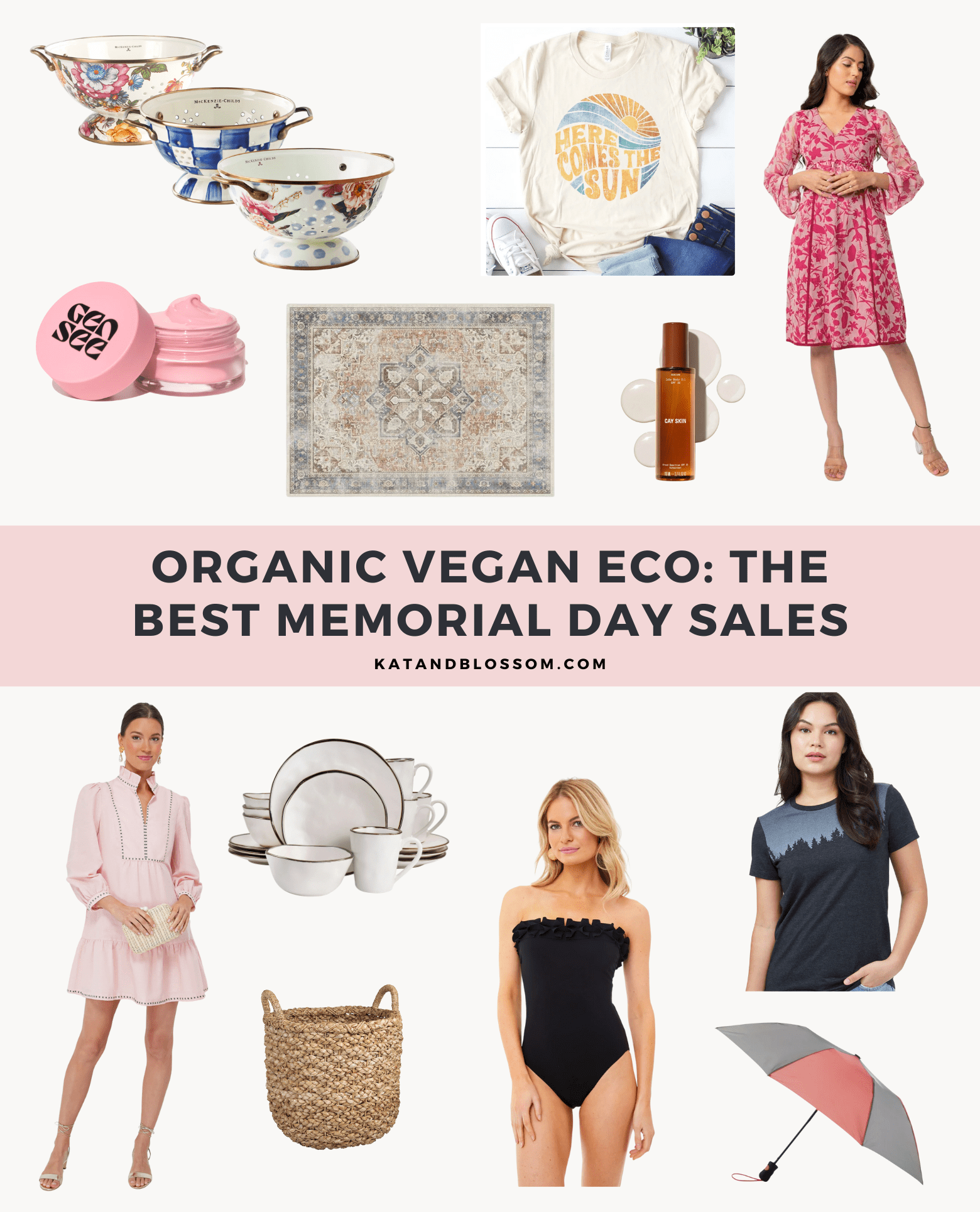 Memorial Day is not only a time to remember and honor our heroes; it's also a time to kick off summer with a bang! But why not make our celebrations more meaningful by making conscious choices that align with our values of sustainability and compassion? Thankfully, the demand for ethical and eco-conscious products has soared, and retailers are stepping up their game to offer incredible discounts on items that check all the right boxes.
First things first—organic goodies! If you're all about embracing a healthier lifestyle free of chemicals and supporting sustainable and ethical practices, this is your chance to stock up. From clothing to skincare and more, only made with the most natural ingredients, so you can get nature's goodness without compromising on your health.
Now, let's talk vegan and cruelty-free. If you're part of the growing community of compassionate people who opt for plant-based alternatives, you're in for a treat! You'll find tons of vegan options to choose from. That means, cruelty-free skincare and summer dresses, fashion accessories, and even mattresses!
And if you're all about living that eco-friendly lifestyle, we've got you covered too. From eco-friendly non-toxic cookware to rugs you can throw in the washer, you'll find exactly what you need without compromising on style or functionality.
So, get ready to shop smarter, greener, and kinder this Memorial Day! Let's make this holiday weekend not just a celebration but a conscious step towards a better, more sustainable future. Happy shopping!
Organic Vegan Eco: The Best Memorial Day Sales
---
Disclosure: This post contains affiliate links. If you purchase through one of my links, I may receive a commission at no additional cost to you.
---
More To Check Out:
Best Target Cleansers Under $20
Simple Budget Farmhouse Kitchen Decor
Popular Brands and Stores
Featured Brands
CAY SKIN
Cay Skin offers a one-stop shop for those seeking skincare, cosmetics, and personal care items that are free from harmful chemicals and animal-derived ingredients. And, their commitment to eco-consciousness is also shown through their packaging, which incorporates recycled and biodegradable materials to minimize waste. If you're looking for high-quality products that not only enhance your well-being but also contribute to a more sustainable and compassionate world, you'll love Cay Skin.
Urbankissed is an online marketplace that has curated selections of fashion, beauty, and lifestyle products from sustainable and ethical brands.
With a strong focus on organic materials, eco-conscious production methods, and cruelty-free alternatives, Urbankissed provides a space for conscious consumers to discover and support brands that align with those values. You'll get to explore a wide range of products and discover new brands – from clothing and accessories to skincare and more.
Each item has been carefully vetted for its sustainability and ethical practices. Urbankissed not only promotes a sustainable and compassionate lifestyle but also empowers consumers to make mindful choices that positively impact both the environment and people.
Home Decor
Give your home a fresh and stylish update this summer with the perfect home decor!
From homey accents to cozy fabrics, there's no better time to transform your space and create a warm and inviting atmosphere.
Embrace summer-inspired colors like soft yellows, cool blues, and tropical greens to infuse your home with a refreshing vibe.
Add decorative pillows, lightweight throws, and breezy curtains to bring a touch of comfort and relaxation. Don't forget to incorporate nature-inspired elements like potted plants or floral arrangements to bring the outdoors inside.
Whether you're hosting a fun pool day or enjoying a quiet evening at home, make your space feel like a summer retreat and create a stunning ambiance for a summer to remember.
Best Mattresses
Tuft & Needle stands for revolutionizing the mattress industry with their innovative approach. Their mattresses are designed with a perfect balance of support and pressure relief, ensuring a restful night's sleep.
But what sets them apart is their commitment to sustainability. Tuft & Needle uses CertiPUR-US® certified foam, which is free from harmful chemicals and made with a lower carbon footprint. They also prioritize ethical manufacturing practices, ensuring fair wages and safe working conditions for their employees. With a hassle-free buying experience, including a 100-night trial and easy returns, Tuft & Needle makes it easy to find the perfect mattress for your needs. So, invest in your sleep and the planet by choosing Tuft & Needle, where comfort meets sustainability in the coziest way possible!
Avocado is centered around sustainable luxurious mattresses that are handcrafted with natural and organic materials.
What makes them even more unique is their vegan mattress, which is completely free from animal products and crafted with care for those embracing a 100% vegan lifestyle.
Avocado Mattress goes above and beyond by using organic cotton, and natural latex, all sourced from sustainable and responsible suppliers. Their commitment to the planet extends beyond materials, as they operate their own solar and geothermal-powered factory, making a positive impact on the environment.
With their 365-day trial period, easy shipping, and 25-year warranty, Avocado makes it easy to make the switch to a sustainable and vegan mattress. You'll rest easy knowing that your sleep is not only cozy but also aligned with your values – for a truly exceptional sleep experience that's good for you, animals, and the planet.
Molecule's mattresses are engineered to provide optimal support, pressure relief, and temperature regulation, ensuring a restful night's sleep. But Molecule is not just about comfort—they're also dedicated to promoting recovery and wellness. Their mattresses are built with advanced materials that promote airflow, heat dissipation, and muscle recovery, so you wake up feeling refreshed and rejuvenated. Molecule also uses CertiPUR-US® certified foams that are free from harmful chemicals and eco-friendly.
Layla has a flippable design, offering two firmness options in one mattress. Whether you prefer a plush or a firmer feel, it's up to you. They also use CertiPUR-US® certified foam and have responsible manufacturing processes for a healthier sleep environment and a smaller carbon footprint.
Sweetnight is committed to providing affordable luxury without compromising on quality – from memory foam to hybrid options. Their mattresses are made with CertiPUR-US® certified foam and come with a 100-night sleep trial.
Best Rugs
If you're looking for the perfect rug that combines style, convenience, and sustainability – this is the brand for you. Ruggable has rugs that are not only easy to clean but also eco-friendly. If you're tired of lugging heavy rugs to the dry cleaners or worrying about spills and stains, try these machine-washable rugs instead.
Another reason I love Ruggable is that they are also committed to reducing their environmental footprint. They use recycled and vegan-friendly materials for their rug pads and packaging, ensuring that their products are as kind to the planet as they are to your home.
With a wide variety of styles and sizes, Ruggable has something for every room and aesthetic. So, say goodbye to the hassle of traditional rugs and join the Ruggable revolution—stylish, sustainable, and stress-free.
Kitchen Accessories
It doesn't matter whether you're planning dinner with family and friends at your place this summer or planning on making a luxury meal to impress, having the right tools and accessories in the kitchen is essential.
Think about upgrading your kitchen with must-haves like grilling sets, versatile utensils, cute accessories, and non-toxic durable cookware.
Summer is a time to embrace colorful but also practical gadgets that make food prep a breeze, like salad spinners, citrus juicers, and ice cream makers.
And, don't forget to stock up on stylish serveware and outdoor-friendly dishes for all your entertaining needs.
Non-toxic cookware
If living your healthiest life matters to you, it's time to throw out the Teflon and add non-toxic cookware made with materials like ceramic, stainless steel, or cast iron, which are also known for their durability and heat distribution properties.
Enjoy peace of mind knowing that your cookware won't put harmful substances into your food. Whether you're grilling, baking, or sautéing, non-toxic cookware ensures that you can whip up delicious meals without compromising your own well-being. Make a healthy and sustainable choice by investing in non-toxic cookware that will better your cooking experience and put you on track to living a healthier lifestyle.
Caraway has ceramic-coated cookware that is non-toxic, non-stick, and easy to clean, making meal preparation a breeze. Because they are committed to sustainability and mindful living, their cookware is made up of eco-friendly materials and designed to reduce waste.
A few favorites from Caraway:
Made with ceramic coatings that are free from harmful chemicals, you can cook with confidence, knowing that your meals are safe and healthy. Our Place is dedicated to sustainability and reducing their environmental impact.
Their cookware is crafted with durable and responsibly sourced materials, ensuring longevity and minimizing waste. With thoughtful features like nesting lids and versatile designs, you can be more efficient when you're cooking while saving cabinet space, especially for small kitchens.
A few favorites from Our Place:
Made In's cookware is designed with premium materials that are free from harmful chemicals. Their products have durable materials and are made to last.
Plus, their ethical manufacturing practices ensure fair wages and safe working conditions for all. With their exceptional performance and stylish designs, Made In cookware is the ultimate choice for home chefs who value quality and sustainability and want to upgrade their cooking experience.
A few favorites from Made In:

Swimwear
Whether you're lounging by the pool or hitting the beach this summer, finding the right swimsuit is essential.
From flattering one-pieces to trendy but classy two-pieces, there's a swimwear style for you. Embrace bold colors, playful patterns, and stylish cuts that reflect your unique style.
Dresses
You can't have summer vibes without the perfect dress. Whether you're planning a backyard grill out or a beach getaway, dresses are a must-have for any summer event.
From flowy maxi dresses to cute sundresses, there's a dress to suit every occasion. Embrace vibrant colors, floral prints, and breezy organic fabrics that go perfectly with the season.
Tuckernuck dresses are for those seeking to embrace an organic, eco-friendly lifestyle while still being able to wear something cute.
Tuckernuck, a renowned clothing brand, takes pride in offering a collection of dresses that prioritize sustainability and the use of organic materials. Their commitment to environmental consciousness shows in their selection of fabrics, which often include organic cotton, linen, and other eco-friendly fibers.
With their dresses, you can confidently showcase your fashion sense while supporting sustainable and ethical practices. From flowy maxi dresses to chic midi designs, their collection provides a range of options for every occasion, all crafted with a focus on environmental responsibility. Tuckernuck dresses allow you to feel beautiful and confident while making a positive impact on the planet.
Outdoor Furniture
Create your own ultimate outdoor oasis this summer with the perfect furniture and accessories that will transform it into a cozy retreat.
From comfortable lounge chairs and dining sets to stylish umbrellas, patio firepits, and decorative accents, there are endless options to suit your taste and enhance your outdoor experience. Add durable materials that can withstand the elements and choose furniture that offers both comfort and functionality. Don't forget to add finishing touches like outdoor cushions, string lights, and planters to create a welcoming and inviting atmosphere.
Beauty Summer Essentials
Stay healthy and glowy all summer long with must-have beauty essentials for summer!
As the temperatures rise, your beauty routine will need to be updated with products that keep you looking fresh and radiant. Invest in lightweight foundations or tinted moisturizers with SPF to protect your skin from the sun while providing a natural, soft finish.
Don't forget to stock up on waterproof mascaras, vibrant lip colors, and long-lasting setting sprays to ensure your makeup stays flawless even in the heat. Pamper your skin with refreshing facial mists, hydrating serums, and lightweight moisturizers to keep it healthy and nourished.
And of course, don't leave home without a beach-friendly sunscreen to shield your skin from harmful UV rays.
Vacation Ready
Sunscreens
Clothing
When thinking about the temperatures rising, you'll also want to refresh your wardrobe to suit the changing weather. You'll need lightweight fabrics, vibrant colors, and breezy silhouettes that will keep you cool and comfortable.
From flowy maxi dresses and chic rompers to trendy shorts and breathable tops, there are endless options to suit your personal summer style. Don't forget to accessorize with statement sunglasses, stylish hats, and comfortable sandals to complete your summer look.
Whether you're going to a low-key get-together or lounging by the pool, dress for the occasion and wear your personal style throughout the sunny season.